Wedding Party Entertainment
Ever wanted to out-do your mates on your special day?
What Ultimate Chaos recommends….
Start the laughs off with the
Comedy Security Guards
, Steve Jones and Norman Bush will welcome (ish) your guests in, making sure that none of them are concealing weapons of any kind. Even old relatives pack a piece or two in a small handbag!!!
What people say about us?
"The security guards were spot on – everyone, me included, fell for it totally. The sight of my Uncle having to enter his daughter's Wedding Reception carrying his sporran over his head will remain with me for a long time."
Then what works is the Comedy Waiters
After a change of clothes the wedding entertainment continues with the wacky waiters,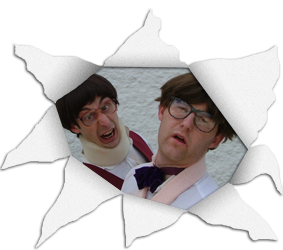 Daryl and Dave are from Australia. They are unclean, noisy, clumsy and very funny. If you can imagine the worse service in the world, well, that's the Ultimate Chaos Waiters. To put your mind at rest the waiters
will
help serve the food in their own unique way, but they
won't
spill, drop, throw or interfere with the food or drinks!
What people say about us?
"We immensely enjoyed the comedy waiters – removing about 10 used bowls of soup and putting the dirty cutlery in a pocket brought tears to our eyes, especially as it took so many people a good while to work out what was going on!"
Go one better than your friends!
 What people say about us? "There was constant laughter at the dinner tables at your antics and much talk about it the following day, which went a long way towards making what a good number of people said was the best wedding they had ever been to. Thank you once again – brilliant!"
"Even the kid's table didn't escape. When the shocked little girl walked up to her parents carrying the glass of what she thought was "red wine" that the waiter had poured her – well, it doesn't get much better than that, guys."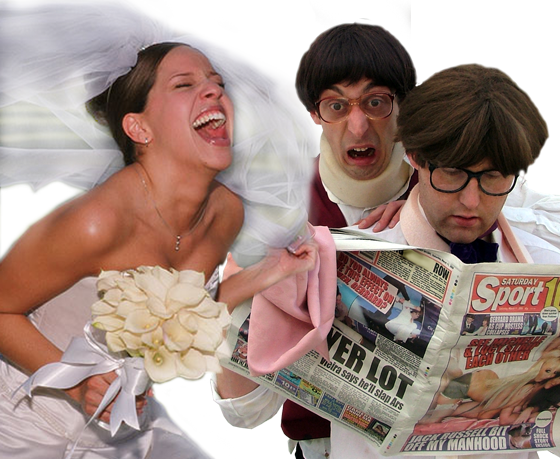 Weddings are remembered for a long time.. with Ultimate Chaos they are hard to forget…