Have your guests become the victim of our unique security team – Steve Jones and Norman Bush, who will do everything from body plant, to cause our oh so realistic metal detectors to go off! It's all good fun and you get to choose the victims.
We work not only inside, but we can also go outside causing chaos. We're quite good at parking (directing) cars to parking spaces.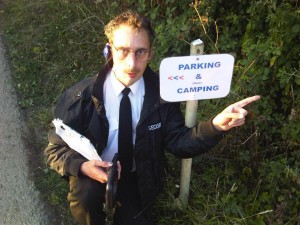 Imagine strict airport security but with two bumbling fools in charge of crowd control. And when the metal detectors go off (much to the embarrassment of the culprit) it's like being stopped in Comet or Currys for stealing (we'd imagine!).
Needless to say upon entering the party or event, guests are left in bewilderment and confusion at what they have witnessed. 'Are they real?..They must be?.. but how can they?'
Also take a look at Comedy Waiters and Comedy Digital Paparazzi